Three points for HILO's cosmetics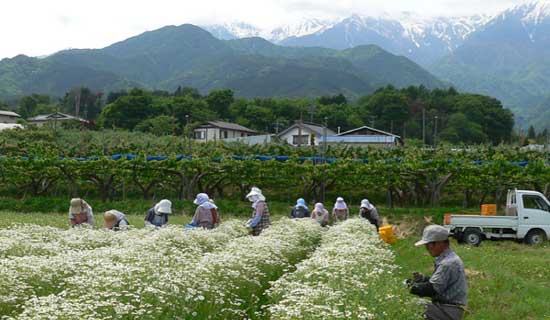 We are using 7 products. Which is made in Japan, Nagano, Kochi, Yamagata or Okinawa. We are using those cosmetics made in Japan. Those are non chemical planting. All of our cosmetics are raised in organic herb plantation, and there are also raw water including the Alps mountains.
Our cosmetics have a high aroma effect, so we feel very happy.
Because of the ingredients are 100% natural, your skin will begin to demonstrate the native power.
(1)Will not have stain or wrinkle on your skin
(2)Not so dry
(3)Tighten Pore
If you apply chemically synthetic substances derived from petroleum, such as antiseptics, to your face for a long term, it is likely to cause spots and wrinkles. According to the research studies, it is said to be that depending on the type of cosmetic products, unique stains can be made somehow.
Your skin will be more beautiful if you do not use cosmetics containing bad ingredients.It takes about half a year, but the skin moisturizes naturally. And the other benefit is that the amount of cosmetic products you use everyday will decrease.
We think that this viewpoint is very important."What is NOT contained in cosmetics" rather than "what is contained?"
What is the truth about cosmetics?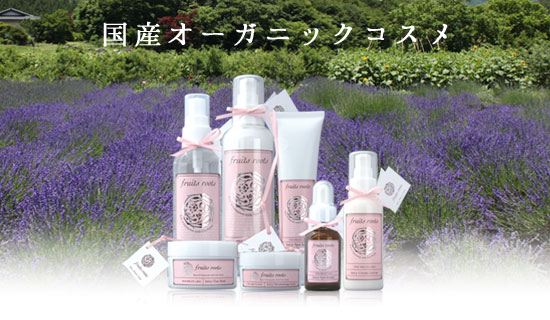 We are telling truth information about all cosmetic products to use. We think that our customers should know the importance of avoiding bad ingredients.
1. The history of Japanese cosmetics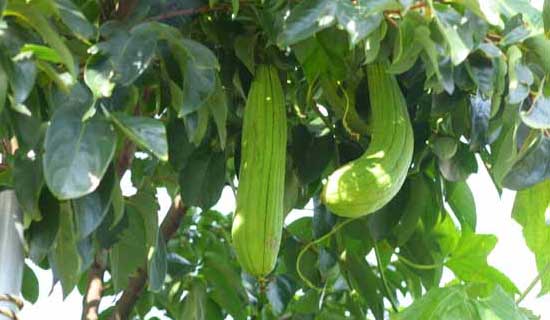 About 420 years ago -Edo Period: People of those days attached natural ingredients such as oil extracted from flowers and fruits, distilled water, honey and loofah, on your skin. Eventually, many people began using cosmetics. In order to make cosmetics last longer, they started adding chemicals to cosmetics. Along with the development of the world economy, we started to use chemically synthesized substances made from petroleum as ingredients, which can be efficiently mass produced at low cost without trouble.
As a result, skin troubles suddenly increased. For example,
1950: Melanosis(Symptoms of darkening of the skin) occurs in Japan
1970: Identified as cause of raw material (tar dye) contained in cosmetics
1977: A lawsuit was filed against seven cosmetic manufacturers such as POLA and Kanebo
Recently,
People who use whitening products of Kanebo cosmetics had a problem "white spot damage" in 2013.
2. What is non-additive cosmetic, natural cosmetic?
With the increasing number of women suffering from skin troubles, non-additive cosmetics and natural cosmetic products began to pay attention. The former Ministry of Health and Welfare designated 102 kinds of "display designated ingredients". 102 ingredients, there is a risk of allergies!
No additive cosmetic products do not contain this 102 types. However, there are over 7,500 cosmetic ingredients now. In addition to 102 kinds, there are many ingredients causing allergy. Many of non-additive cosmetics contain chemically synthesized components derived from petroleum.
Meanwhile, natural cosmetic products contain ingredients extracted from plant extracts. However, there are many natural cosmetic products that contain very few natural ingredients and contain many components of chemical synthetic substances. Extreme story, if 99% are chemically synthetic substances and something 1% contains natural ingredients, it is a natural cosmetic product. Nothing added, naturalistic, it is no longer a word magic.
Great merit unique to nature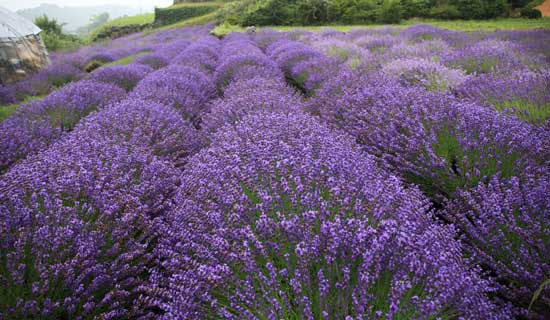 Chemically synthesized ingredients are essentially ingredients that do not exist in nature. When manufacturing and processing, we consume more energy. The load on the environment increases. Also, experiments are carried out with rabbits and small animals such as rats to confirm that there is no harm to the human body when developing products with a variety of chemical synthetic substances. Since natural ingredients are components obtained from the natural world such as plants, animals and minerals, these problems can be avoided by using natural ingredients.
Under the Pharmaceutical Affairs Law
In 2001, the Pharmaceutical Affairs Law was obliged to display all "ingredients" for cosmetics in Japan. The ingredients increased, and even 102 indication designation components were buried. Consumers are no longer able to check even dangerous components.
Furthermore, it is supposed that "components corresponding to carryover need not be expressed in all ingredient display". So, ingredients that are not displayed on the back of cosmetics may be included.
*Carryover "The ingredient carried over" means that the ingredients contained in the raw materials remain as they are in the product, from the cultivation process of raw materials to make as a product process.
There are two cases.
1. Pesticides and chemical fertilizers used for plant cultivation remain.
2. In the component manufacturing process, the solvent used for extraction of the extract remains.
When using chemical solvent such as butylene glycol or alcohol as extraction solvent, solvent will be mixed into extracted extract. Technological progress can also be made to remove the ingredients contained. However, there is no process to remove in mass production and cost critical products. Ethanol derived from raw materials may be contained even when extracting by distillation method without using solvent.
Component Manufacturer
↓Ethanol contained in the components of the extract
Cosmetic manufacturer
↓Ethanol not added cosmetics
sale at the shop
Even if ethanol is not shown in the ingredient table of cosmetics, there is no problem on the Pharmaceutical Affairs Law in Japan.
3. The world trend of organic cosmetics
There is a legal standard of organic JAS for food in Japan, but there is no legal standard to certify organic in cosmetics. There is no definition of organic cosmetics clearly defined in the whole world. But there are certification bodies: some countries have more than two organizations such as ECOCERT, ACO, USDA, BDIH.
In France, Germany, and Italy, not only foods but also cosmetics, they monitor organic certification standards at the national level.
Five organizations from these three countries gathered, and since January 2015 common certification: a new standard was established as COSMOS.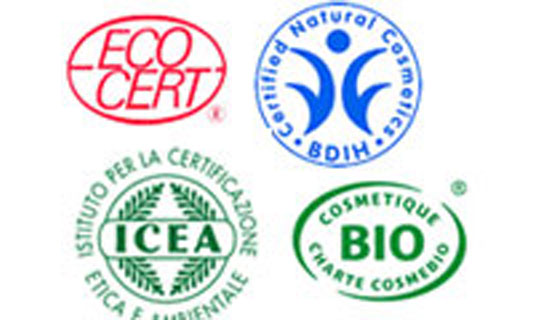 However, the certification criteria is "allow petrochemical ingredients to the extent of 2% of finished product". 102 types of "display designation ingredients" determined by the former Ministry of Health and Welfare are permitted. As COSMOS, is it acceptable to use such certification criteria?
4. Standards of cosmetics handled at HILO
In compliance with the standards of fruit roots cosmetics, all provisions of cosmetics used at salon HILO are honestly published.
*Specified level based on ingredients contained in cosmetics
Level 1. Additive cosmetics
It does not contain 102 kinds of indication designation ingredients such as paraben, pigment, perfume.
Level 2. Additive-free low irritation
It does not contain quantitative regulated ingredients such as phenoxyethanol.
Level 3. Natural cosmetics
It does not contain synthetic raw materials such as BG or Carbomer. *Chemical synthetic substance free
Level 4. Botanical cosmetics
Not including collagen and mineral oil, animal or mineral origin. *Chemical synthetic substance free
Level 5. Real Organic
Using only vegetable raw materials with no pesticide certification and cultivation history. *Chemical synthetic substance free
Let us use level 1 cosmetics, only when we use the protective gel for flashing light treatment. Basically we use level 2 or higher cosmetics.
There are lots of cosmetics called organic in the world. But, products of level 2 or highet are only a few. We deals with several cosmetic brands. We are currently dealing with 7 brand cosmetics. And we are always looking for domestically produced organic cosmetics and increasing our handling products.
5. What is HILO's Organic Natural Cosmetic
We deal with cosmetics made mainly of naturally derived ingredients, not using chemical ingredients at all, or using only a small amount. It is a cosmetic that focused on promoting and restoring the natural healing power that human skin inherently possesses.
Our selection criteria 1
– Quality that can eliminate the image of conventional organic cosmetics. For example, texture, color, scent and so on.
– Traceability has been secured: Proof of pesticide can be proved from the origin of raw materials and cultivation process.
– All components including carryover are displayed.
– Volunteer women cooperate and are conducting allergy tests. Do not animal experiments.
– Cosmetics are produced at plants by using raw materials procured in Japan as much as possible, contributing to the revitalization of the domestic economy.
Our selection criteria 2
If we use cosmetic products containing chemically synthesized ingredients that come out in the process of refining oil for a long time, wrinkles, spots and dullness will be formed on our face. It is said that skin cells contract by the transition effect.
Therefore, we deal only with cosmetic brands, which are highly safe natural ingredients.
Functions of cosmetics and Alternative natural ingredients

| Function | Intended use | Chemical synthesis component | Risk | Alternative naturally derived ingredients |
| --- | --- | --- | --- | --- |
| Preservative | Increase shelf life of cosmetics | Paraben, phenoxyethanol, Benzoate Na | Allergies | Rosemary extract, Luchima water, Moon peach leaf extract, radish fermented extract, hexanediol, caprylyl glycol |
| Washing | Facial wash, cleansing, shampoo etc, ingredients to wash skin and hair | Sodium lauryl sulfate, Laureth sulfate Na | Sebaceous function deterioration, ceramide outflow, carcinogenesis, transdermal penetration | Soap, potash soap base, glyceryl dioleate, glyceryl stearate, sucrose laurate |
| Emulsification | Mix oil and moisture into cream | PEG-xx:Polyethylene glycol | Sebaceous function deterioration, ceramide outflow, carcinogenesis, transdermal penetration | Lecithin |
| Pigment | Color cosmetics | Red No. 223, Yellow No. 404 (Extracted from Enzo) | Pigmentation | Orange peel oil, lemon extract, gardenia fruit extract, strawberry extract, blueberry extract, chamomile oil, Adonis Palestine flower extract |
| Perfume | Fragrance the scent of cosmetics | Acetaldehyde, geraniol, methyl nonyl acetaldehyde | Spots, burning, carcinogenesis | Damask rose flower oil, geranium oil, apple juice, peach juice, lemon juice, strawberry juice, grape extract, orange peel oil, blueberry extract, grapefruit peel oil, chamomile water, lavender water |
| Oil agent | Oil component which becomes a base such as cream and milky lotion | Paraffin, benzyl alcohol, Vaseline | Kusumi (oil burned), carcinogenesis | Olive oil, sunflower oil, grape seed oil, jojoba oil, camellia seed oil, macadamia nut oil, peanut oil, shea butter |
| Solvent | Liquid when extracting plant extract | BG、PG | Rough skin | Water, damask rose flower water |
6. Finally
Cosmetics are those that attach directly to your skin, including your face. In the case of foods, some pesticides etc. are decomposed by enzymes, but cosmetics applied to the skin directly. With cosmetic acts such as 365 days, 5 years, 10 years, a considerable amount of chemically synthesized substances are applied to your skin, permeated and absorbed, and it goes over the whole body. Skin health will definitely be compromised if there is even a slight toxicity (transdermal penetration) in the cosmetic to be applied to your skin everyday.
"The viewpoint of what is NOT contained is more important than what is contained in the cosmetics you use everyday?"It is more effective to avoid bad ingredients than what ingredients are in. With non-chemical cosmetics, it is important to make your skin's original barrier function and to live a life that does not generate active oxygen as much as possible. Otherwise, our effective treatment will be wasted.
Switching to natural cosmetics, you will feel unsatisfactory and dry at first. Extracts of plants raised in the natural environment have strong antioxidant action. At first, you may feel irritated. But, in time, the original barrier of the skin recovers and the secretion of sebum becomes normal.
HILO Natural & Organic Beauty Care
Shopping Web Site