Estheticians
We are improving our knowledge and technique every day. We are pursuing "hospitality".
Kairi Monguchi
Profile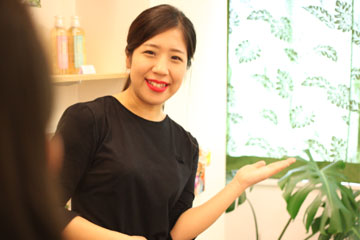 Blood Type:O
Hobby:Watching baseball
Favorite Things:Karaoke, Long Sleep
Message to the customer
Wen I was a students, I was very happy when I got a smile or told "Thank you" by the customers. I felt that this is the most rewarding things to work!
I would like to give services closer, long hours, deeper to the customers. I want to have more "Thank you" from the customers, I thought.
I looked for a jobs that I was more than happy to impressed with. That was esthetic beauty services. At that time, I found salon HILO Yokosuka.
I always think "Do I have any services to the customers more?" I'm growing up myself at the bright, fun environment Salon HILO. I am looking forward to meeting as many people as possible to give a lot of smiles and happiness to the people in Yokosuka!
Rumi Deguchi
Profile
Blood Type:O
Hobby:Watching Animation
Favorite Things:Sushi
Message to the customer
"I want customers to be beautiful and happy!" That's why I learned technology and knowledge for two years at a cosmetology vocational school.  For one year after graduating, I was in charge of many customers at an esthetic salon in Yokohama, but after all I want to help her not only local people, people living in Yokosuka, Japanese people but also foreign people.  Thought i met Salon HILO.
 Every day, in order to solve the problems of women in Yokosuka, we are working hard to improve my skills and knowledge so that she can take care of her not only her appearance but also her mind!  ︎ I hope all the customers who come to Salon HILO can bring their smiles and happiness to home ♪

Nice to meet you!